I started making Knitty's French market bag with two shades of SWTC Karaoke. The yarn is lovely and soft. However, it gets a big thumbs down for the spinning quality - it's kinky and would rather tangle than be knitted. If I was knitting a straight piece, it would be biasing terribly.
I have done 9 repeats of the Koigu shawl, so I am quite happy about that. I also started making a little blue jumper form my Blythe doll.
I also accidentally on purpose bought the yarn and the book for the Tori sweater - remember?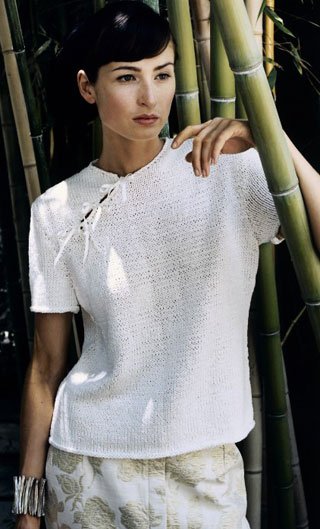 Mine's in cream, they had no white. Not a cheap item to make, though. I am resisting casting it on until I have finished at least one thing.
Don't hold your breath, though! :)
---
In other news, have made some inroads to my xmas shopping. Apart from buying things for nephew and niece, and G of course, I think I'm mostly done. Had two days off with G, spent wandering around Brum and Cov, drinking far too many gingernut lattes (I failed to spot the creme brulee latte until after I'd ordered. Bah!) Managed to pick up an xmas outfit in Bon Marche, too. So this year I'm going as purple silk and bling!